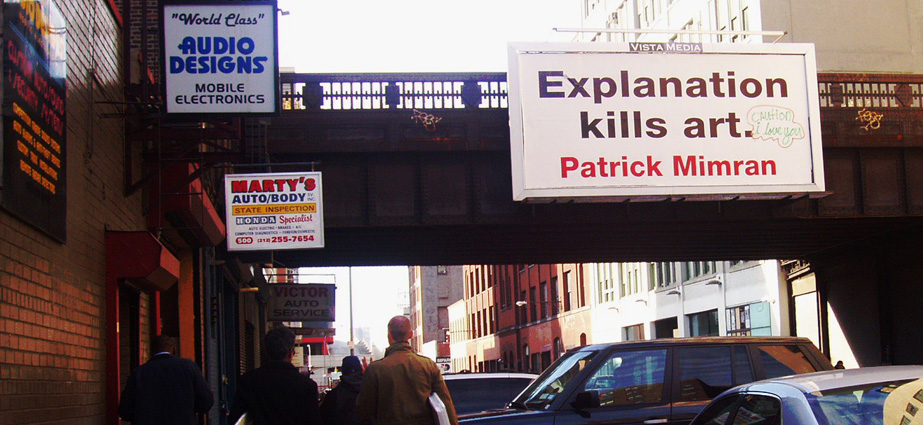 Critical Theory in Contemporary Art Practice
CRITICAL AND CONTEXTUAL STUDIES IN CONTEMPORARY ART PRACTICE
TUTOR SOPHIA KOSMAOGLOU / COURSE OUTLINE / BIBLIOGRAPHY / RESOURCES
This intensive course provides students, artists, curators, writers and researchers with a concentrated space to develop their practice and research in a critical and creative framework. The course will introduce students to theoretical discourses that inform the production and interpretation of contemporary art and provide a supportive environment to articulate their ideas on the production, exhibition and reception of art.
Through lectures, seminars, tutorials and gallery visits the course familiarises students with key concepts and historical transformations underpinning contemporary art production and reception. You will be supported in developing and articulating your own ideas on the production and exhibition of art. We will look at the impact of key philosophical, cultural and political discourses on art practice, and examine different theoretical perspectives and critical debates. You will extend and develop your ability to discuss, write about and judge contemporary art. You will be assisted in contextualising your practice by identifying relevant topics and practices. You will be supported with extensive feedback in tutorials and workshops. You will also develop your skills in writing artist's statements, critical reviews and/or exhibition proposals.
Course Outcomes
You will be able to develop, articulate and contextualise your practice. You will be able to identify influences and important references that are relevant to your practice and research. You will develop your writing and research skills and formulate research questions to guide your practice and research. You will be able to critically evaluate your own work, as well as that of others. You'll be able to critically discuss and evaluate contemporary art.
Who Should Attend
The course will suit those wishing to develop their practice and research, prepare a portfolio, apply for a postgraduate degree in art or pursue a career in the arts.
Upcoming Course Dates
11 January — 15 March 2018 every Thursday 6pm—8:30pm for 10 weeks
Chelsea College of Arts UAL, 16 John Islip Street, London SW1P 4JU
Booking via UAL Critical Theory in Contemporary Art Practice
Contact the Short Course Team ccwshortcourses@arts.ac.uk / +44 (0) 20 7514 6311
6—10 August 2018 every day 10am—4:00pm for 5 days
Chelsea College of Arts UAL, 16 John Islip Street, London SW1P 4JU
Booking via UAL Critical Theory in Contemporary Art Practice
Contact the Short Course Team ccwshortcourses@arts.ac.uk / +44 (0) 20 7514 6311